Reactive dogs – specialised services
Having a reactive dog can be very challenging.
Walking your dog in popular dog walking areas if often incredibly stressful for both of you, if not impossible. Many fellow dog owners do not understand the struggles you are going through and it can be quite isolating.
Dog walking can become a reluctant chore, due to number of triggers you encounter on your walks. It can also feel quite lonely, because you are not able to walk with other dog owners & their dogs, or even stop for a chat with someone.
You become an expert in extra early morning and late night dog walking. You drive to every walk just to avoid bumping into other dogs as much as possible. You hire a secure dog field for your walks. You become a ninja expert in scanning the perimeter, to ensure no triggers are in sight…. All of these are excellent environment managing options BUT do not help you with the behavioural issue of reactivity.
Holiday time can also be challenging to plan, because kennels are just not an option for your reactive pooch, dog boarders mostly take on multiple dogs at a time, or you only go away with your dog.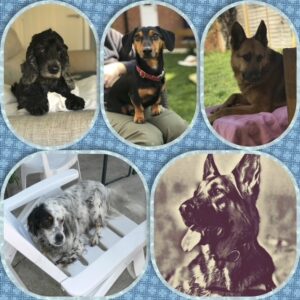 We CAN help with your reactive rascal in many ways, here's how:

Our reactivity programme is tailored to each individual reactive rascal, to help them with their reactivity to any triggers, build their confidence and to give you the knowledge needed to understand your dog's behaviour better.

Our group socialising walks, which are run is small groups, are perfect for those rascals who have completed the 5 week reactivity programme, or if they need to build confidence around other dogs (and people), learn how to politely meet other dogs, etc.

Reactive rascals pet sitting (just launched!). One to one pet sitting, in your own home, by a professional qualified in dog training & behaviour, who understands your dog's particular needs (we cannot accomodate for dogs woith separation anxiety / issues at this time).
Please get in touch to discuss how we can help with your reactive rascal HERE