Behavioural Consultations
Behavioural consultations & ongoing support for more complex dog behaviours:

   Separation anxiety

   Resource guarding

   Reactivity

   Nervousness & fears 

   Impulse control 
All these problematic behaviours require an appropriate assessment and behaviour modification plan suited for your dog specifically. Due to more complex nature of these behaviours, and science used to modify them, long term support is usually required.
My bespoke packages will not only include an individual behaviour modification plan for your dog, but also:
→ help you understand why your dog is behaving in a certain way
→ explain how behaviour can be changed why training hasn't quite worked previously
→ teach you how to help your dog with emotional side of their behaviours
→ help your dog's confidence
→ help your own confidence as a dog handler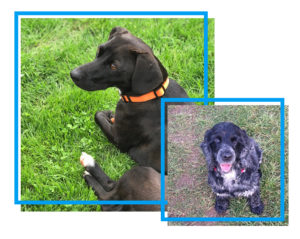 Step 1 – Discovery call
Book your free discovery call to discuss your dog's behaviour, your needs and how I can help you.
Step 2 – Initial consultation
The initial consultation allows us to go through a very detailed history of your dog & their behaviour, previous remedies attempted, assess home environment and have a chat about your frustrations & goals. I will provide you with any necessary safety and management tips & recommendations, which may be necessary during the visit, as well as follow up report.
Price £120
Step 3 – Practical one to one sessions
We start putting things into practice, once the behaviour modification plan is ready. Regular follow up sessions are essential for consistency, momentum and progress to be achievable within a reasonable timeframe.
Training during each session is covered in bitesize, followed by easy to digest plans sent afterwards, to ensure you know what we are doing, why are we doing it, and what is the expected outcome, without feeling overwhelmed.
Price £50 per session